Above and Beyond Windy City

Millennium Park, an award-winning center for art, music, architecture and landscape design, is just one of the many locations from the Above and Beyond Windy City CD.
Ray Kelley has exemplified the above quote, by taking music and giving it the personality of the destination.
I was introduced to Ray over a decade ago, when I was at the Hyatt Regency Chicago. At the time, he was promoting Above and Beyond Windy City. This CD along with the city guide and map that came with it, became the #1 gift for our best customers. It also made a great turn-down amenity for guests. We received many letters of thanks and comments on how the songs brought back great memories of their visit to Chicago.
Creating a feeling of a destination is not an easy task, but Ray has been able to capture these impressions through his music. When you listen to his other albums, Sound On Wisconsin, A Strand of Desert Pearls, Destinations, The Palm Strings, you can feel the vibrancy of the area.

Stephen D'Agostino, General Manager
Hyatt Regency, Orange County, California
Hyatt Hotels and Resorts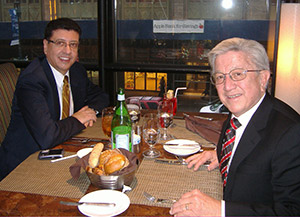 Stephen D'Agostino & Ray Kelley
Stephen D'Agostino and Ray enjoying lunch at the Grand Hyatt New York. Steve is currently General Manager at Hyatt Regency, Orange County (adjacent to Disneyland).



---
Destinations



Tourism and leisure travel is all about the experiences that touch your soul and how they impact all five senses.
Back in the mid 1980's I met Ray Kelley when I was responsible for a number of resort properties in Mexico. We needed a customer gift that not only represented our destination, but would also provide guests with a reminder of their resort experience.
What better gift than to provide our guests with a music product, customized for the destination and with a quality level to ensure they would play it upon their return home. Ray and Resort Music created Destinations for CasaMagna Mexican Resorts and our customers loved it. We received many letters of appreciation and attributed bounce back or repeat resort stays to the power of our musical gift.
Ty Helms, Senior Vice President, Global Sales (recently retired)
Hyatt Hotels Corporation
Hyatt Hotels and Resorts
---
Sound on Wisconsin



"Music is the universal language... and one of the most appreciated gifts. Ray Kelley has captured the essence and warmth of a Wisconsin getaway in a CD that makes the perfect souvenir or gift. For savvy tourism marketers, this is a product that wins on every level."
Bill Geist
Zeitgeist Consulting



• Website
• Blog

---
Michelle Denise Wan & Ray Kelley


| | | |
| --- | --- | --- |
| | | |
| Michelle Denise Wan, observes Ray trying out her cello at the Portman Ritz-Carlton during the Kelley's visit to Shanghai (2006). At the time, Michelle was Director of Communications at Four Seasons Hotel in Singapore. | | Michelle is currently Director of Corporate Communications at The Fullerton Heritage, Singapore. |