Singapore's MAX Atria Debuts Resort Music "Soundscape"


Ray Kelley, music producer and professional cellist in the Los Angeles entertainment industry, has taken his musical concept of producing destination albums that remind visitors of their travel experiences from Palm Springs to Chicago and now to Singapore.

10/17/2012
PALM SPRINGS, CA --
MAX Atria, a new Meeting, Convention and Exhibition facility in Singapore features a Soundscape produced by Resort Music. Ray Kelley, President of Resort Music, based in Palm Springs (California), produced compositions for this new building that has attained the Building and Construction Authority's "Green Mark Platinum Award." This Singapore-specific award represents green initiatives: natural light complements tropical landscaping; interiors and architecture benefit the environment.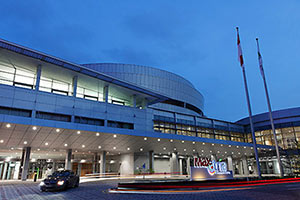 David Wareing, Singex Venues' Director, Marketing Communications, notes, "At MAX Atria, we strongly believe in providing a holistic event experience to all delegates. With Ray's Soundscape, we've been able to add yet another trump card to our deck, and the feedback we've gotten has been very positive."
The venue is located adjacent to Singapore EXPO, a top-ranked exposition center in Asia. MAX Atria and EXPO are managed by Singex Venues Pte Ltd.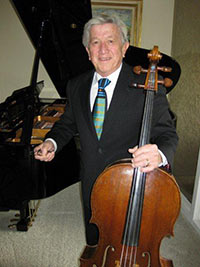 The Soundscape reflects MAX Atria's "Crystals" theme, making it possible for Kelley to produce instrumental songs titled Cut Crystal, Sparkle and Asian Chimes, along with additional original selections. The songs characterize meeting rooms named Garnet, Opal, Topaz, etc. The Soundscape is day-parted into morning, afternoon and evening segments, featuring a variety of musical styles.
Wareing explains: "The customized MAX Atria Soundscape resonates with our partners and clients, complementing and enhancing their event experience with music that reflects the diverse mood fluctuation felt during the course of a given day."
Kelley, a life-long world traveler and professional musician, played in symphonies for twelve years (Utah, Dallas, Los Angeles Philharmonic) before transitioning to decades of record and film recordings. He is currently principal cello on the long-running prime-time TV series, The Simpsons.
In 1988, Kelley focused on producing albums that are tourism and marketing souvenirs. He assembled Hollywood's top composers, arrangers and studio musicians, producing 24 albums which are available digitally worldwide. Among others, "Ray Kelley Band" projects include: Palm Strings and Desert Pearls (Palm Springs Desert Resorts), Destinations (Marriott Resorts, USA/Mexico); Sound on Wisconsin; and Above & Beyond Windy City (Chicago).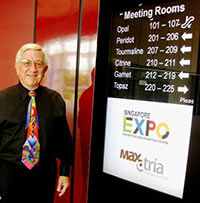 Tyson Helms, Senior Vice President/Global Sales, Hyatt Hotels & Resorts, introduced the Chicago album to that city via the Hyatt Regency Chicago. Helms comments, "Tourism and leisure travel is all about the experiences that touch your soul and impact all five senses. What better gift to give than the quality of Ray Kelley's music, providing guests with a reminder of their travel experiences."
Kelley remarks: "The Soundscape is an exciting addition to Resort Music's global reach, delivering high-quality music for tourism promotion. I am honored to be Music Curator for MAX Atria in the modern, multi-cultural and exhilarating Republic of Singapore."

Singapore

Singapore, a Southeast Asian city/state, is located off the southern tip of the Malay Peninsula. It is 85 miles north of the equator. An island country made up of 63 islands, is separated from Malaysia by the Straits of Johor to its north and Indonesia's Riau Islands by the Singapore Straits to its south.

Singapore is incredibly modern, clean, and safe with friendly people and a multitude of captivating attractions. The "Lion City" is a fantastic place to visit for a wide variety of the world's tastiest and spiciest cuisines from cultures including: Chinese, Indian, Malay, Peranakan and Indonesian, among others.

Singapore should be a 'must see' on everyone's travel itinerary.

ARCHIVES:
Singapore's MAX Atria Debuts Resort Music "Soundscape"



Cellist Reaches Musical Destination



From Beethoven to Bart Simpson



Kelley to Lecture at Manhattan School of Music



Instilling Culture



Cellist Touring School District, Entertaining Students



Palm Springs Life



Cellist Ray Kelley performs with Newton-John



Jingle Bells in June



Stars Celebrate Abraham Lincoln's Legacy at Ford's Theatre Benefit Gala and Lincoln Medal Award Ceremony



Musicians' Musician Celebrated with CD