» Introduction
» Los Angeles
» India
SHRUTINANDAN / India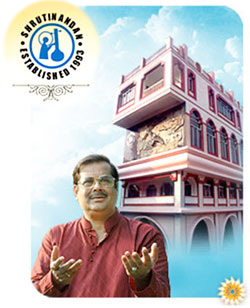 Not only learning school for Indian raga-music based in Kolkata, Shrutinandan is a new concept: a unique methodology of teaching Indian vocal music that makes the fusion of tradition with modernity.
Shrutinandan is a centre of excellence for educating individual needs of Indian Raga music - commonly known as Classical music, both Hindustani and Karnatic, beyond 'gharana' (regional variables) fragmentations; and most importantly through 'Guru-Shishya parampara' (teacher-student inheritance).
Shrutinandan is the institution for learning all forms of Indian music [students admitted from age 5] including its basics. The school doesn't believe in distributing music diplomas only, but converts budding musical minds to real performers of professional standard.
Shrutinandan offers in-premise and on-line tutelage under the guidance of Pandit Ajoy Chakrabarty, the 'Creator', and a legend of Indian classical music by his own merits.
Guru Pandit Ajoy Chakrabarty is a dedicated human soul, a born teacher, Panditji, with dreams of nurturing young talents till they can walk independently on the global musical highway. Guru Pandit Ajoy is a strong believer of breaking regional variables ('gharanas') to reach out to the global musical arena as 'The Guru' at Shrutinandan.
Above all Pandit Ajoy Chakrabarty is a visionary, the guru.
"Tidbits" and explanations of the traditional Indian form of music at SHRUTINANDAN…

'Shruti' means listening; it also means the 'Vedas.' The Vedas were transmitted in terms of oral and aural tradition.

Music is essentially learned and transmitted orally and heard with the ears, taught by gurus.

'Nandan' implies aesthetically pleasant. It means child as well.

Indian Raga music, any music of any age and any time, is shrutinandan, a child of orality and obviously of pleasure. And so an institution of teaching and learning Indian classical music could never have any name other than Shrutinandan.

The music institution, Shrutinandan, teaches its students the fundamentals of vocal music, which is the prime source of all kinds of music in India.

Traditionally Indian raga music was taught by the gurus to their shisyas—solo or in groups; and the shisyas had to stay at the gurus' place from childhood. They had to live an ashram-life under the gurus' supervision, leaving their parents behind. It was almost a religious teaching methodology.

Times have changed. Life hardly gives us the chances as in earlier days. Hence, Indian classical musical development is in a dilemma as far as transferring the treasures to the newer generation is concerned.

This is why Shrutinandan is here… with an aim to provide the much needed space for coming generations to "be" and ' be in' the rich heritage of Indian classical music.