The Madras String Quartet "in action"
Violinists V.S. Narasimhan and Hemanthraj Muliyil, Cellist V.R. Sekar and Violist B. J. Chandran
(PHOTO: S.S. KUMAR)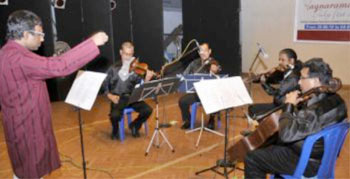 The Madras String Quartet (MSQ) was founded in 1993. The group is based in Chennai, a southern city of the state of Tamilnadu, India. From a modest beginning, the group has expanded their activities from mere concert performances to recording, teaching and conducting workshops.

MSQ is striving to establish itself as one of the finest chamber music players in the country. It is actively involved in creating a generation of new audiences who are sensitive to listening, as well as appreciating the western chamber music tradition. MSQ is actively engaged in exploring new frontiers of chamber music performance.
String Quartet can be best described in two words, 'Intimate' and 'Fascinating'.

'Intimate' because with only four instruments, they take care of the whole concert. The first violin might play the melody, but the second violin and viola turn into accompaniments. The cello plays a bass line, with substance enough to be a melody by itself. Such is the charm of the string quartet.

'Fascinating' because each instrument has more to do than just being a part of a huge orchestra.