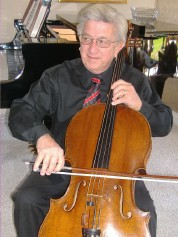 Jingle Bells in June


Celebrating Christmas in Washingon D.C.
6/27/2007
It may be a little early for Christmas, but Palm Springs resident, Ray Kelley and his wife, Cheryl, just returned from Washington D.C., where Ray -- a cellist -- participated in the June 24th taping of "A Holiday Celebration at Ford's Theatre."

Due to be aired on ABC-TV in December, the event, complete with machine-generated snowfall, holiday decorations and folks dressed in winter attire, was attended by President George Bush and First Lady Laura Bush. Also in attendance were members of the Senate and Congress and leaders of American industry.

A former member of the Los Angeles Philharmonic, Kelley has been in the L.A. recording industry for over 40 years. He currently is Principal cello on the hit TV show, "The Simpsons" - a position he has held for 18 years!

In Washington, Kelley was featured on cello with Olivia Newton-John singing "Instrument of Peace." Other celebrity performers include Jon Secada, Wynonna Judd and Yolanda Adams.

Kelley is President and Founder of Resort Music, Inc., based in Palm Springs. Among the CDs produced by his company are destination-specific music souvenirs for Chicago, Wisconsin and the Coachella Valley. The broadcast quality music is heard worldwide.


ARCHIVES:
Singapore's MAX Atria Debuts Resort Music "Soundscape"



Cellist Reaches Musical Destination



From Beethoven to Bart Simpson



Kelley to Lecture at Manhattan School of Music



Instilling Culture



Cellist Touring School District, Entertaining Students



Palm Springs Life



Cellist Ray Kelley performs with Newton-John



Jingle Bells in June



Stars Celebrate Abraham Lincoln's Legacy at Ford's Theatre Benefit Gala and Lincoln Medal Award Ceremony



Musicians' Musician Celebrated with CD