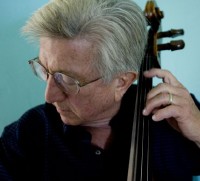 Cellist Ray Kelley performs with Newton-John


"A Holiday Celebration" at Ford's Theatre
7/6/2007
Katie Ruarck, Palm Springs Sun
Photo by Omar Ornelas.

Ray and Cheryl Kelley just returned from Ford's Theatre in Washington, D.C.

But Ray Kelley was not in the audience.

He normally isn't at most venues.

The Palm Springs cellist has performed in the Los Angeles Philharmonic, Utah and Dallas symphonies, as first cellist on compositions for Star Trek, the Simpsons and other movie and TV theme songs.

On June 24, Ray Kelley performed alongside Olivia Newton-John in "A Holiday Celebration" at Ford's Theatre.

The audience for the show included President George W. Bush and Laura Bush, according to Ford's Theatre Society.

The show will air in December on ABC.

"To play that solo with Olivia, this is what I was really trained to do," Kelley said, calling it one of the highlights of his career.

Kelley has been in the music industry for 50 years. These days he spends more of his time as a producer for his company, Resort Music.

Resort produces city-specific original music that can be used as a marketing tool for the hospitality industry.

He refers to his trade as a "musical destination marketing" CD concept.

The albums include "A Strand of Desert Pearls," which features a song from each Coachella Valley city; "The Palm Strings," "Above and Beyond-Windy City" about Chicago and "Sound on Wisconsin."

Hyatt and Marriott hotels around the country have carried the CDs in their gift shop and the Ritz Carlton has them in rooms, Kelley said.

"The Chicago CD is still selling," said Cheryl Kelley of the 1996 album. "All of these years later."


ARCHIVES:
Singapore's MAX Atria Debuts Resort Music "Soundscape"



Cellist Reaches Musical Destination



From Beethoven to Bart Simpson



Kelley to Lecture at Manhattan School of Music



Instilling Culture



Cellist Touring School District, Entertaining Students



Palm Springs Life



Cellist Ray Kelley performs with Newton-John



Jingle Bells in June



Stars Celebrate Abraham Lincoln's Legacy at Ford's Theatre Benefit Gala and Lincoln Medal Award Ceremony



Musicians' Musician Celebrated with CD